Applying NVIVO in Mixed Methods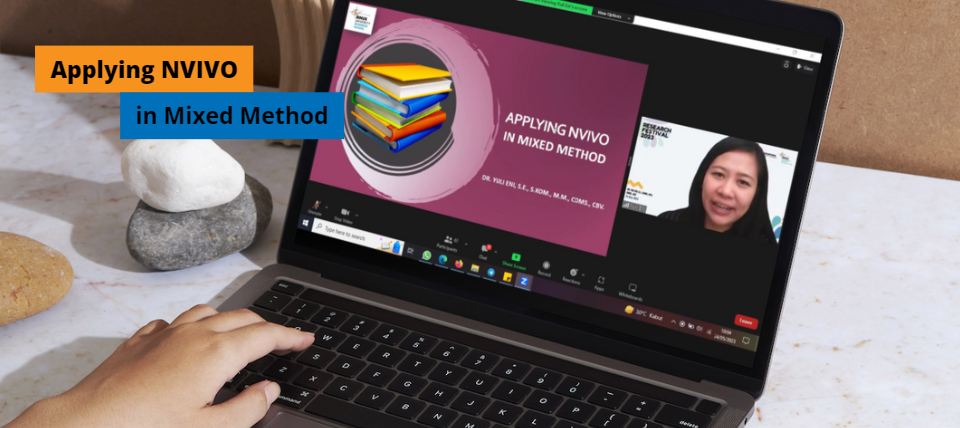 The Research and Technology Transfer Office (RTTO) and Binus Corporate Learning and Development (BCLND) collaborated to organize an engaging and informative online event titled "Applying NVIVO in Mixed Methods." The event aimed to provide participants with valuable insights and practical knowledge about using NVIVO software for mixed methods research. The event took place on May 24, 2023, and featured Dr. Yuli Eni, M.M., as the esteemed speaker, with Seera Pudji Adriaansz M. from BCLND as the host.
Dr. Yuli Eni began the session by providing a comprehensive overview of mixed methods research and its significance in contemporary research practices. She highlighted the potential of NVIVO, a powerful software tool widely used by researchers for qualitative data analysis, in integrating qualitative and quantitative approaches effectively. The speaker emphasized the need for researchers to utilize NVIVO to harness the full potential of mixed methods research and enhance the validity and reliability of their studies.
Seera Pudji Adriaansz M., the host from BCLND, skillfully moderated the event, ensuring smooth transitions between topics and maintaining an enthusiastic atmosphere. She facilitated the Q&A session, ensuring that participants had ample opportunities to interact with the speaker and clarify any doubts. The online event concluded with closing remarks from Dr. Yuli Eni, who expressed her gratitude to the participants for their active participation and emphasized the importance of utilizing NVIVO in mixed methods research. She encouraged participants to explore further resources and training opportunities to enhance their proficiency with the software.
The collaboration between RTTO and BCLND proved successful in organizing an insightful event that empowered participants with practical knowledge on applying NVIVO in mixed methods research. The event exemplified Binus University's commitment to fostering and empowering the society by providing relevant and cutting-edge learning opportunities.
______________________________________
Public Engagement and Outreach
Research and Technology Transfer Office
https://linktr.ee/binusresearch
#nvivo #BINUSUNIVERSITY #BINUSIAN #BINUSRESEARCH #fosteringandempowering