Science and Technology Park: Planning, Organization and Evaluation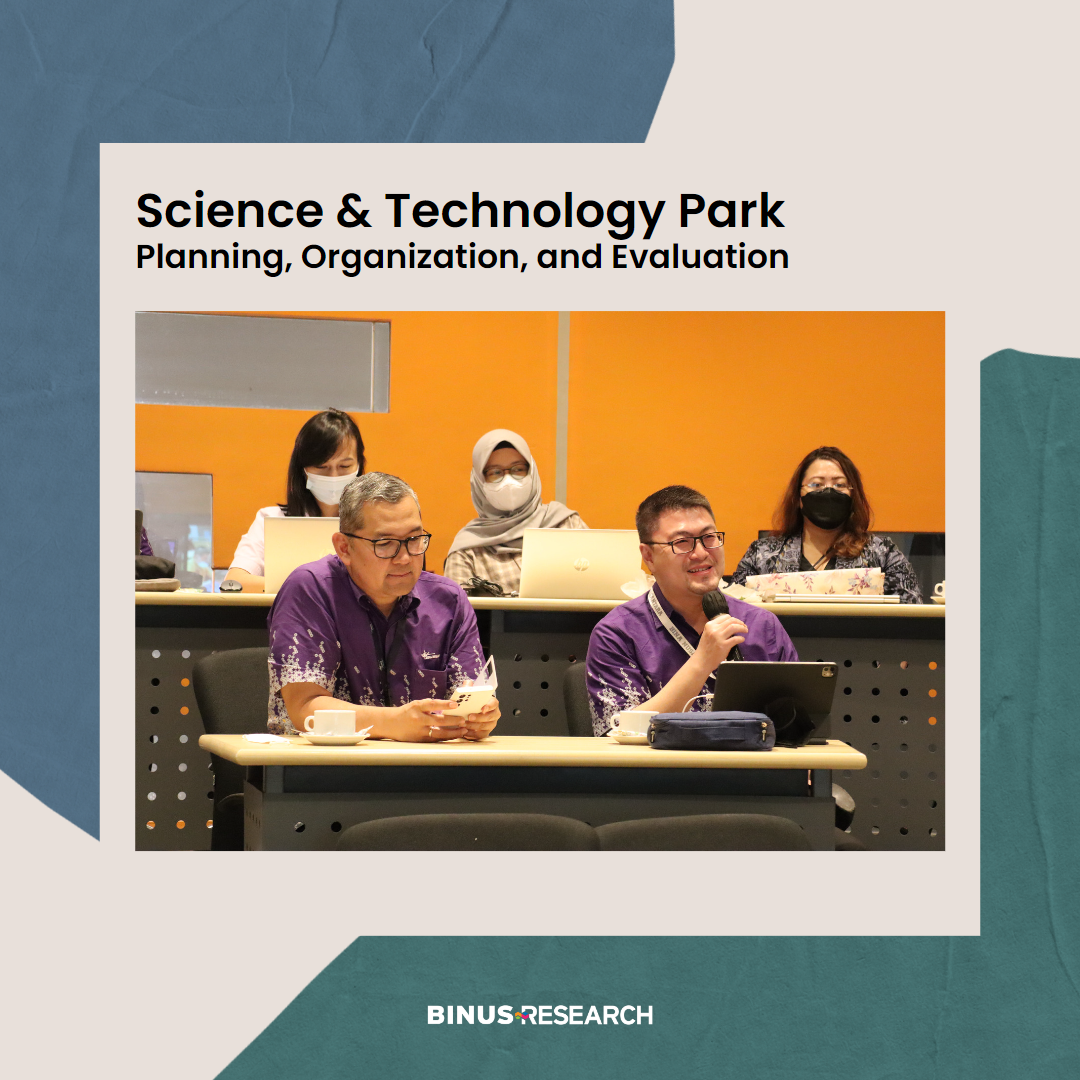 Binus University organized a workshop about Science and Technology Parks (STP) on 20 March 2023 at Binus University Alam Sutera Campus. STP are designed to promote innovation, research, and technology transfer, and play a crucial role in fostering economic growth and development. STP is a collaborative hub for innovation, research, and development, where companies, universities, research centers, and other organizations come together to drive economic growth and technological advancement. STPs aim to provide a supportive environment for entrepreneurs, innovators, and researchers to create, develop, and commercialize new products and services.
Vice President of BINUS Higher Education, George Wijaya Hadipoespito, M.Sc., MBA, Vice Rector Research and Technology Transfer (RTT), Prof. Dr. Tirta N. Mursitama, Ph.D., Research Strategy and Policy Manager of RTT, Dr. Nurlina, M.M., and principled invitees, Binus Creates and Binus Collaboration Center were among the participants. The event's speakers, Dr. Ir. Lukito Hapsa, M.Sc., President of Asosiasi Science and Technology Park Indonesia (ASTPI) and former Director of STP Kemristek Dikti, and Ir. Gopa Kusworo, M.Eng, Secretary General of ASTPI are both experts in the field of STP and will provide valuable insights on the planning, organization, and evaluation of such parks. The event was moderated by Research Product Commercialization Section Head of RTT, Elioenai Sitepu, Ph.D.
Dr. Lukito and Ir. Gopa believe that the initial concept as well as the Binus STP digital platform developed by the Vice Rector for Research and Technology Transfer is crucial for growing an innovation ecosystem and is suitable to be developed as a basis for building an independent STP. STPs can have a significant impact on regional and national economies by creating jobs, attracting talent and investment, and promoting technology-based entrepreneurship. They can also contribute to addressing societal challenges, such as climate change, healthcare, and food security, by supporting research and development in critical areas.
Binus University is demonstrating its commitment to fostering and empowering society through education and knowledge dissemination. It is a great opportunity for students, researchers, and industry professionals to learn about the latest trends and best practices in Science and Technology Parks and to network with experts in the field.
_____________________________________
Public Engagement and Outreach
Research and Technology Transfer Office
https://linktr.ee/binusresearch
#scienceandtechnologypark #BINUSUNIVERSITY #BINUSIAN #BINUSRESEARCH #fosteringandempowering