INACADE Peranakan 2022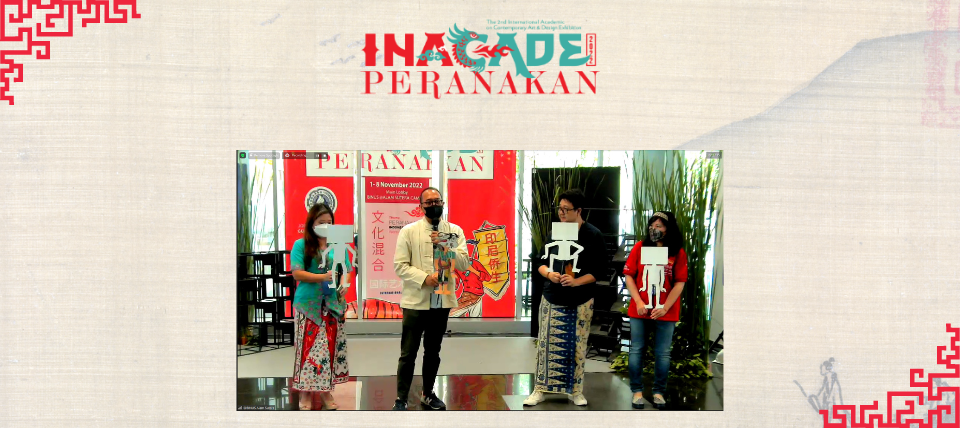 School of Design Bina Nusantara University held the Second International Academic on Contemporary Art and Design Exhibition Peranakan (INACADE Peranakan) on 1 – 8 November 2022 at Bina Nusantara University, Alam Sutera Campus, in collaboration with Initiative Project BINUS 2022 (Peranakan Indonesia-China) and Guangxi University, China. The event also holds an International Conference on 7 November 2022 and a Web Virtual Exhibitions.
INACADE Peranakan become the melting pot to meet and gather discussion for various ideas, artwork, and design based on academic experiment from various countries. This activity is attended by lecturers and students (academics) from the fields of art, design, film, fashion, interiors, and Chinese department and it will include an exhibition of artwork, presentation, and discussions. From 209 art works, there are 52 artworks are selected by curator from School of Art Guangxi University and they are also exhibited at Guangxi University, China.
The Dean of School of Design Bina Nusantara University, Danendro Adi, S.Sn., M.Arts delivered his opening remark on the opening ceremony. The remark was followed by a greeting from Prof. Huang Liyun, the School of Art Party Secretary and Leaders of Initiative Project, Assoc. Prof. Yi Ying, M.Lit., M.Pd. Prof. Hong Yi Hu from Guang Xi University also delivered a keynote speech at the opening ceremony. The ceremony was also livened up with some performances of dancing from students of Guangxi University and singing from students of Chinese Department @Alam Sutera.
Through this exhibition of visual artwork, presentation, and discussions, it is expected to foster and empower the awareness of the cultural diversity in Indonesia that would be useful in building the nation
__________________________________________
Public Engagement and Outreach
Research and Technology Transfer Office
https://linktr.ee/binusresearch
#inacade #BINUSUNIVERSITY #BINUSIAN #BINUSRESEARCH #fosteringandempowering