40 Contributing Researches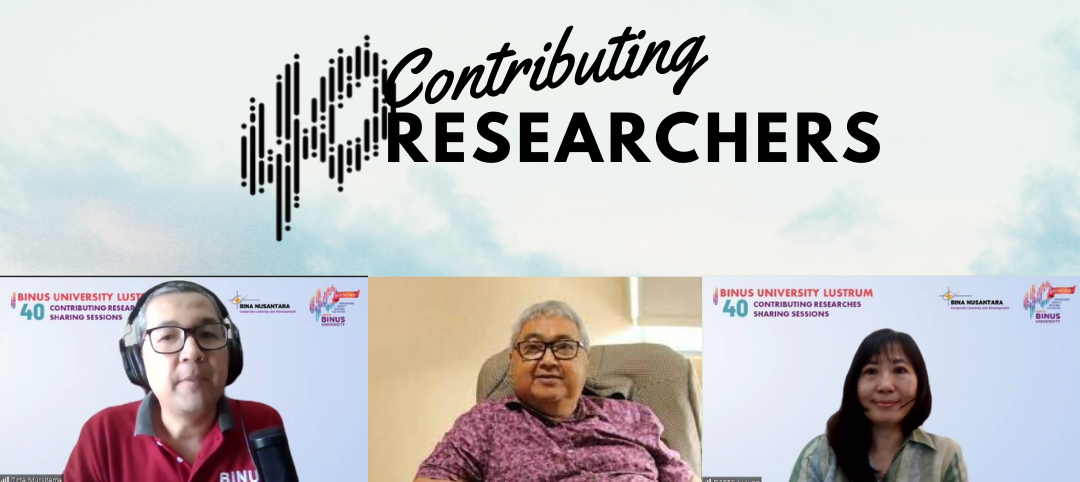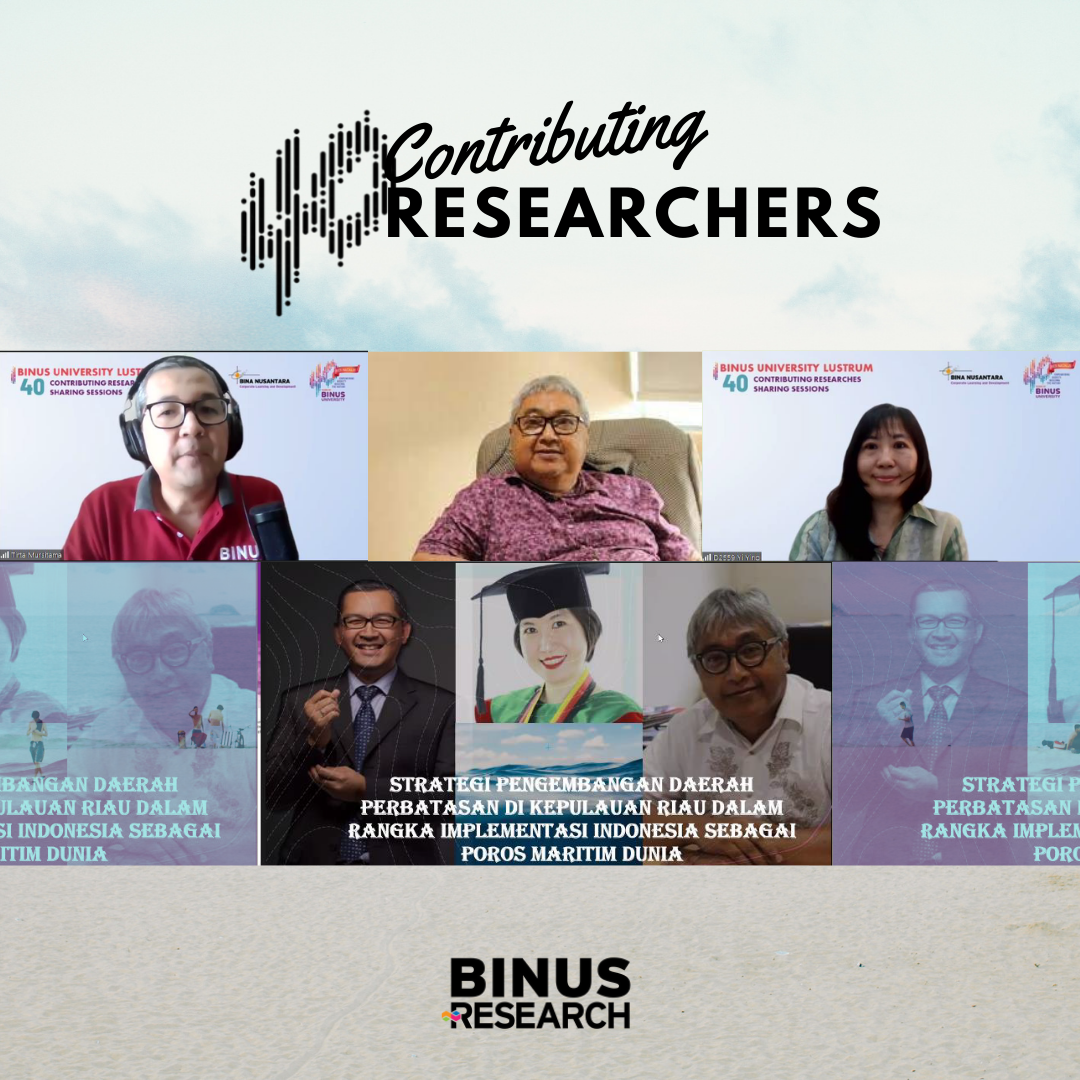 Research and Technology Transfer (RTT) and Binus Coorporate Learning and Development (BCL&D) organized an event of 40 Contributing Researches Online Sharing Session on 27 July 2021. There were three Binus Researchers invited to share their researches. The event was moderated by Mutiara Indriani, M.A. from Research and Technology Transfer Office.
Dr. Evaristus Didik Madyatmadja, S.T. shared his research on smart city application named Sekarmas. Dr. Dra. Ulani Yunus, M.M., with her team, Mario Nugroho Williyarto, M.Pd. and Bhernadetta Pravita Wahyuningtyas, M.Si., shared her first research on cross cultural community with Thailand. Dr. Ulani's second research  about business communication for Indonesian vocational school principals  was carried out with her team, Arleen Ariestiyani, M.I.Kom. and Riana Jogi Ahdareni Matondang, M.I.Kom.
Prof. Dr. Tirta N. Mursitama, Ph.D. shared his three researches on Taiwan and Indonesia mutual relationship and understanding, Riau's islands as the world maritime axis and the development of digital economic management model. Dr. Yi Ying, M.Lit., M.Pd. and Dr. Shidarta, M.Hum. were involved as team members in Prof. Tirta's first research. Prof. Ir. Bahtiar Saleh Abbas, Ph.D. and Dr. Yi Ying, M.Lit., gave their roles as Prof. Tirta's team members on his second research. Moch. Faisal, Ph.D., Nugroho Juli Setiadi, Ph.D. and Nurlina, M.M. shared their experiences on Prof. Tirta's third research.
The participants, the Faculty Members (FM) of Bina Nusantara University, found this event adding their knowledge in research, technology and publication. The participants even showed their enthusiasm in the question and answer session.
We hope it would enhance the creativity of Binus FM to contribute more on research and technology to foster and empower the society.
_________________________
ᴅᴀᴛᴀ ᴀɴᴀʟʏᴛɪᴄ ᴀɴᴅ ᴘᴜʙʟɪᴄ ᴇɴɢᴀɢᴇᴍᴇɴᴛ
🅁🅃🅃 🄱🄸🄽🅄🅂
https://linktr.ee/binusresearch
#40researches #BINUSUNIVERSITY #BINUSIAN #BINUSRESEARCH #fosteringandempowering