Strategi Memaksimalkan Output Penelitian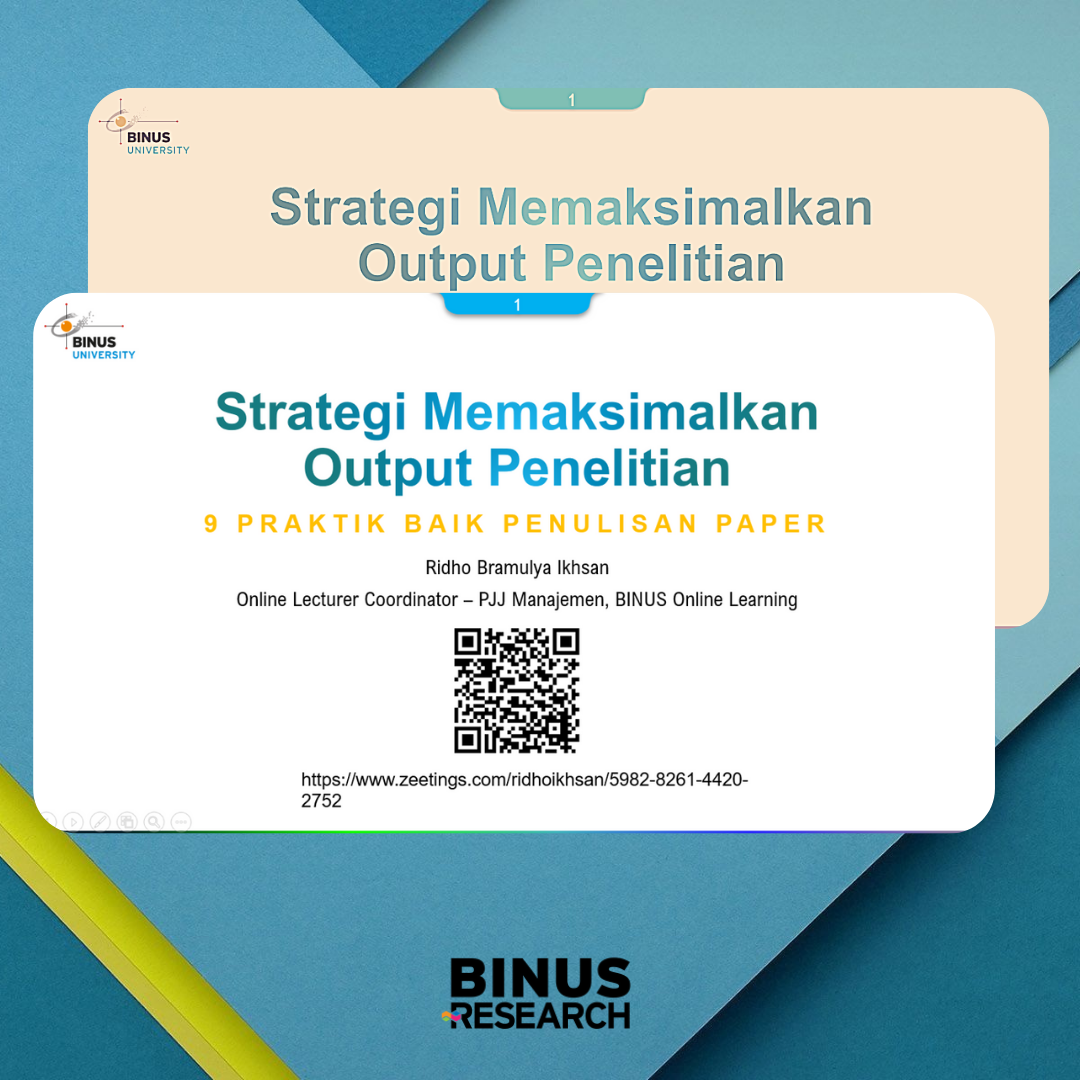 Binus Corporate Learning & Development along with Research and Technology Transfer organized a training for Binus Faculty Members titled 'Strategi Memaksimalkan Output Penelitian' on June 16, 2021. The speaker for the event was Online Lecturer Coordinator – PJJ Manajemen, Dr. Ridho Bramulya Ikhsan, M.M.
The training is aimed to add more skill on how to explore the strategy of how to maximize research output from nine excellent ways in writing research paper. First, researchers have to know the scope and focus of the journal; the template of the journal, publisher reputation, and acceptance rate of the journal. Second, researchers have to have excellent knowledge on Mendeley and writing style of the journal. Third, researchers have to have three hours a day to write, write the research paper simultanously and proofread the writings.
Binus Faculty Members showed their supports on this event through their eagerness in the question and answer session. They always look forward to this event where they can share ideas and opinion in writing their research paper.
We hope this event would improve the enthusiasm of Binus Faculty Members in building research project and to utilize the technology from the research to foster and empower the society.
__________________________
ᴅᴀᴛᴀ ᴀɴᴀʟʏᴛɪᴄ ᴀɴᴅ ᴘᴜʙʟɪᴄ ᴇɴɢᴀɢᴇᴍᴇɴᴛ
🅁🅃🅃 🄱🄸🄽🅄🅂
https://linktr.ee/binusresearch
#researchpaper #BINUSUNIVERSITY #BINUSIAN #BINUSRESEARCH #fosteringandempowering