How to Accelerate University's Research Commercialization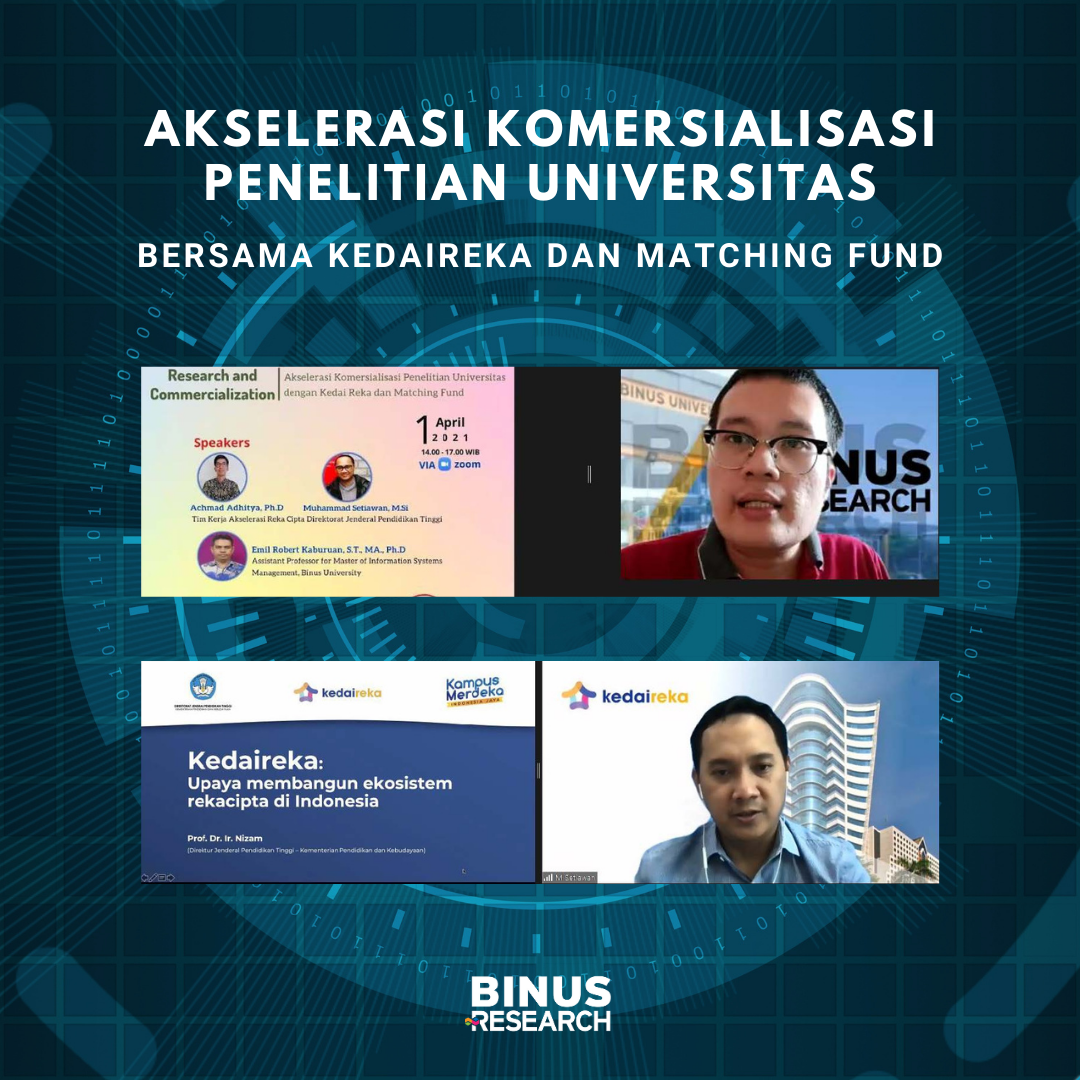 Binus Research and Technology Transfer and Binus Coorporate Learning and Development organized an online workshop on April 1st, 2021. The workshop was about How to Accelerate University's Research Commercialization with the speakers from Tim Kerja Akselerasi Reka Cipta Direktorat Jenderal Pendidikan Tinggi (Kedaireka).
Muhammad Setiawan, M.Si. and Ahmad Aditya, Ph.D. from Kedaireka delivered their sollution on research collaboration. Kedaireka played a role as a facilitator between university and industry in  communicating university's research and industrial products. Kedaireka offered a fair access, innovation acceleration, process automatization and pentahelix collaboration.
Emil Robert Kaburuan, M.Si., Ph.D., Assistant Professor for Master of Information Systems Management Binus University also shared his experience in making his innovation on Garbage Management through Garbage Bank Management in a Village-owned Enterprise Scheme. The participants were really enthusiast in the workshop through their eagerness to join and deliver questions.
The workshop was opened by Technology Transfer and Commercialization Manager Dr.Eng.Nico Surantha, S.T., M.T. and closed by Vice Rector of Research and Technology Transfer Prof. Dr. Tirta N. Mursitama, Ph.D. while he was driving to Binus from another event.
_________________________________
ᴅᴀᴛᴀ ᴀɴᴀʟʏᴛɪᴄ ᴀɴᴅ ᴘᴜʙʟɪᴄ ᴇɴɢᴀɢᴇᴍᴇɴᴛ
🅁🅃🅃 🄱🄸🄽🅄🅂
https://linktr.ee/binusresearch
#researchacceleration#BINUSUNIVERSITY #BINUSIAN #BINUSRESEARCH #fosteringandempowering