Binus Excellence Research: The drones from Langitara Binus University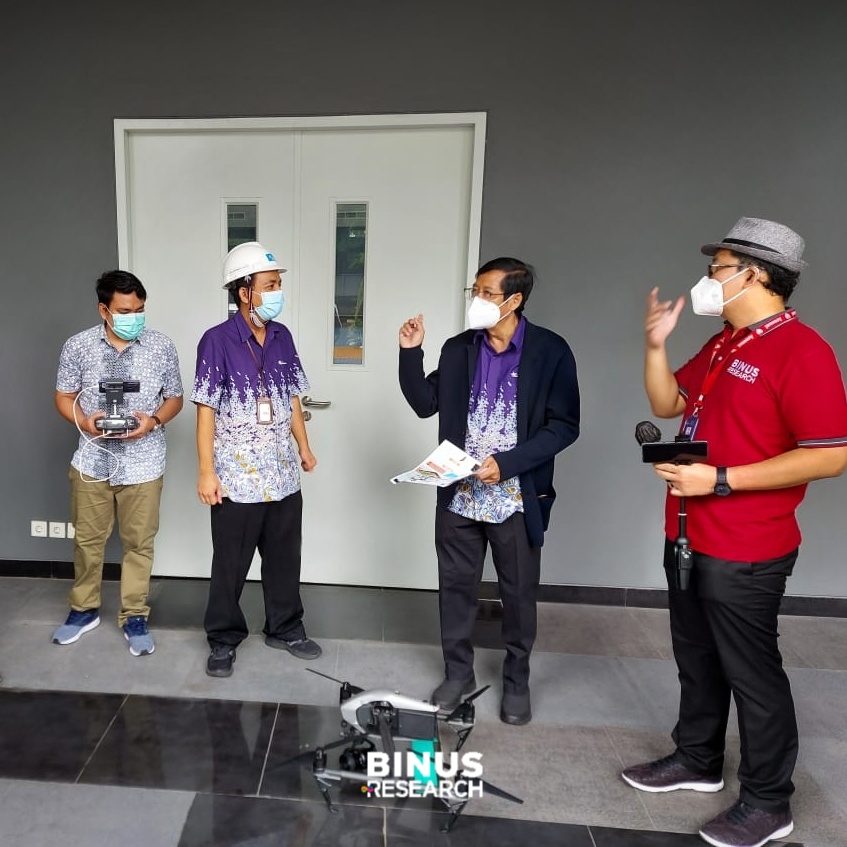 Rector of Bina Nusantara University Prof. Dr. Ir. Harjanto Prabowo, M.M. and Vice-Rector Research and Technology Transfer Office, Prof. Dr. Tirta Nugraha Mursitama, S.Sos., M.M., Ph.D. was in Bina Nusantara University Alam Sutera Campus on January 7, 2021, to witness one of the Binus Excellence Research grantees innovation. Binus Excellence Research (Penelitian Unggulan Binus – PUB) is a research scheme of multidisciplinary applied research based on information technology to provide significant beneficial innovations for society. One of the grantees of this scheme is Prof. Dr. Ir. Widodo Budiharto, S.Si., M.Kom with the innovation of four types of drones. The types of drones are Angkasa, Agricultural, Merdeka, and Technology Consulting. The drones are from Langitara Binus University led by Prof. Widodo with other team members; Dr. Ir. Alexander Agung Santoso Gunawan, S.Si., M.T., M.Sc., IPM, CIRR; Dr. Ir. Jarot S.Suroso, M.Eng.; Andry Chowanda, S.Kom., MM., Ph.D., MBCS; and Dr. Ir. Edy Irwansyah, S.T., M.Si., IPM, ASEAN Eng.
Angkasa drone is a drone developed for mapping and surveillance. This drone uses the Zenmuse X5S Camera Gimbal and is a sophisticated technology device in the Aerial imaging industry. This drone has an additional slot for putting components, payload, and other devices on the drone. Cameras, sensors, computing boards, telecommunication equipment, etc. can be added to drone flights to collect data from the air.
Agricultural drones are multi-functional drones for agriculture. This drone is capable of spreading seeds and fertilizers as well as spraying pesticides. The perfection of flight can be accomplished when flying a drone at an altitude to find out the condition of the plants by bringing 7-10 liters of pesticides that can be sprayed on the plants.
Drone Merdeka is an educational smart drone that can be programmed using the Dji Tello drone-based Scratch. This drone can be programmed using the Scratch and Tello SDK (Software Development Kit). The drone consists of a propeller, motor, camera, battery, and propeller protector.
Technology Consulting Drone is a computer-based information system that is used to process georeferenced spatial data (in the form of details, facts, conditions, etc.) which is stored in a database and deals with problems and circumstances. in the real world. The benefits of GIS in general are providing information that is close to real-world conditions, predicting an outcome, and strategic planning.
The drones are based on a multidisciplinary scientific development of Arduino and robotic programming technology that do not only have commercial prospects but also an impact on the welfare and quality of life of the society. Those who have their interest in exploring robot operating system (ROS) and robotic programming may have a look at a new book by Prof. Widodo's of Menguasai Pemrograman Arduino dan Robotik, which is available now in the book store.
______________________________________________________
ᴅᴀᴛᴀ ᴀɴᴀʟʏᴛɪᴄ ᴀɴᴅ ᴘᴜʙʟɪᴄ ᴇɴɢᴀɢᴇᴍᴇɴᴛ
🅁🅃🅃 🄱🄸🄽🅄🅂
Website https://research.binus.ac.id
Instagram https://instagram.com/binusresearch
Twitter https//twitter.com/binusresearch
FacebookPage https://facebook.com/binusresearch
Youtube https://youtube.com/BinusResearch
#drone #BINUSUNIVERSITY #BINUSIAN #BINUSRESEARCH #fosteringandempowering