Journal of ASEAN Studies has been Included in SCOPUS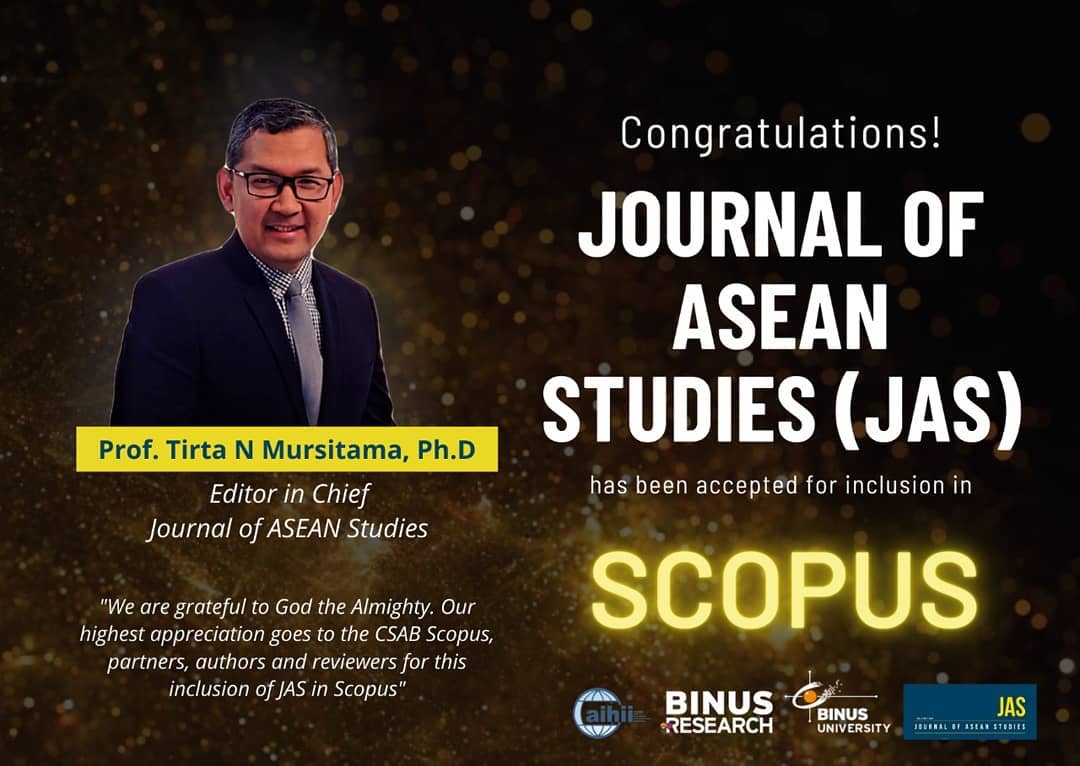 Congratulations to Journal of ASEAN Studies (JAS) for being accepted for inclusion in Scopus. This mark JAS as the first journal accepted to be indexed in scopus out of all 9 Journals currently published by BINUS University.
The confirmation of JAS accepted to be indexed by Scopus was issued by the Scopus Title Evaluation department on the 26th of November 2020. After two months review by the Scopus Content Selection & Advisory Board (CSAB), JAS is deemed applicable to be included in Scopus.
The toughest challenge is the excellent preparation and consistency in publishing the journal through the years of publication. CSAB reviews on numbers of volumes of JAS that has been published on the website. The consistent paces and concentration has been the keypoints in achieving the inclusion.
Prof Tirta Nugraha Mursitama, Ph.D, the Editor in Chief of JAS – who is also currently serving as the Vice Rector Research and Technology Transfer, expresses the highest gratitude to every stakeholder that enables this achievement. "We are grateful to God the Almighty. Our highest appreciation goes to the CSAB Scopus, partners, authors, and reviewers for this inclusion of JAS in Scopus," says Prof Mursitama.
JAS invites submission of research articles, book reviews, and practice notes on the past, current, and future issues relevant to ASEAN as regional organisation, community and Southeast Asia as a region. JAS will continue to improve its quality internationally and strive for excellence.
_______________________
*ᴅᴀᴛᴀ ᴀɴᴀʟʏᴛɪᴄ ᴀɴᴅ*
*ᴘᴜʙʟɪᴄ ᴇɴɢᴀɢᴇᴍᴇɴᴛ*
🅁🅃🅃 🄱🄸🄽🅄🅂
*Twitter* https//twitter.com/binusresearch
*FacebookPage*
https://facebook.com/binusresearch