Prof. Ir. Bahtiar Saleh Abbas, M.Sc., Ph.D. Obituary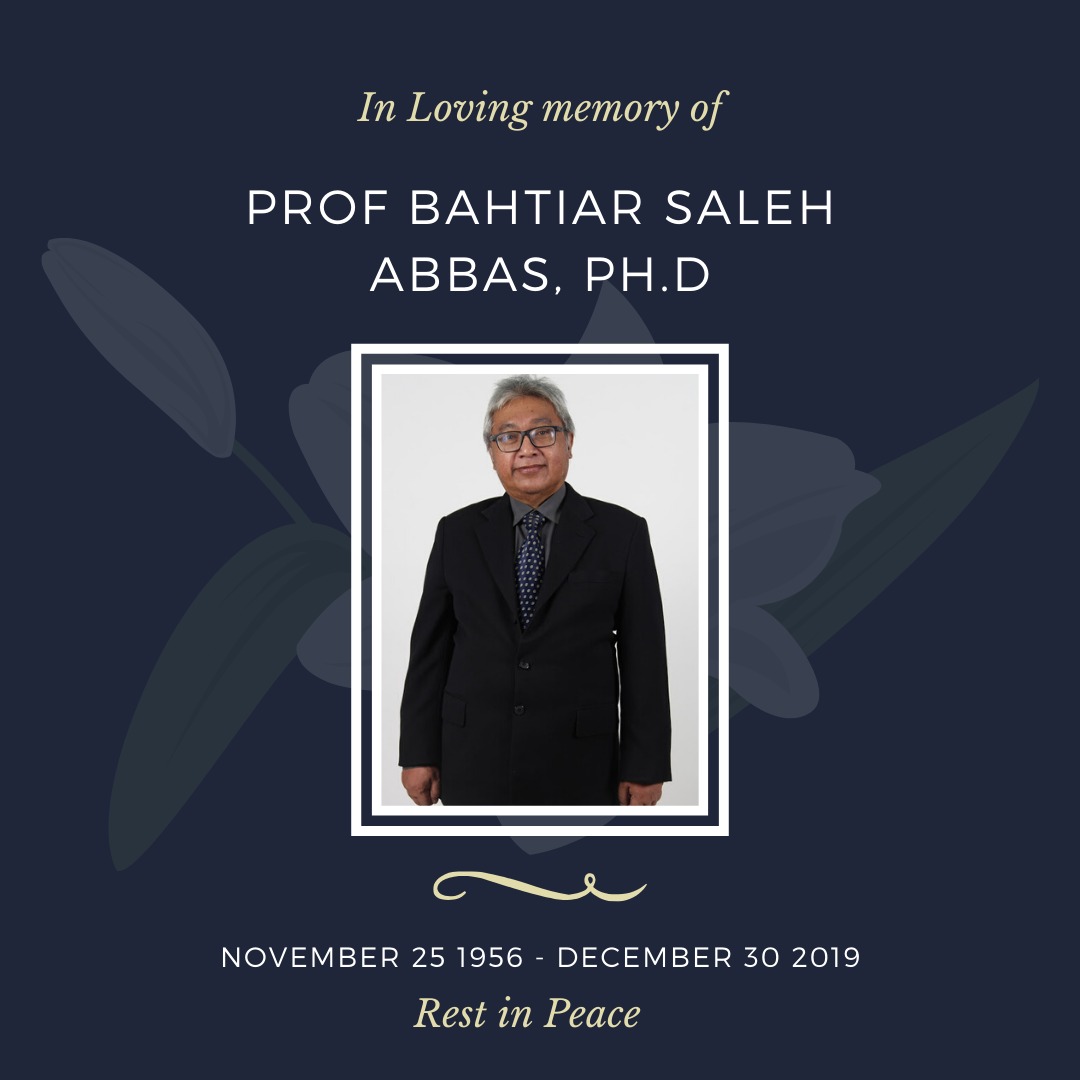 With deepest grief, we announce the passing away of our beloved Prof. Bahtiar Saleh Abbas, Ph.D, age 63, on December 30th, 2019. Prof Bahtiar was the seventh child of 11 siblings, born on the 25th of November 1956 to Ibu Zubaidah binti Ahmad and Bapak Moh. Saleh bin Abbas. Although living in a financially difficult family, it was never an obstacle for him to strive in his education. He received a full scholarship for his education in primary school, junior high school, and also in high school due to his brilliance.
.
In 1976, Prof Bahtiar was invited to be one of the students in Institut Pertanian Bogor (IPB), where he met the love of his life, Ibu Imas Kusetiawati, which he would later marry in the 21st of March 1980. The following week, he would formally graduate from IPB.
In 1983, he continued his postgraduate education in Iowa State University. He managed to write his name in the book of fame: "Who's Who Among American International Students in American Universities and Colleges 1988-1889", and was awarded with George L Cross International Award. He finished his doctoral study in 1989.
.
In 1994, Prof Bahtiar officially became the Faculty Member of BINUS University. He was appointed as the Deputy Head of Industrial Engineering Department in 2000, promoted to Dean of Faculty of Economy in 2002, and Dean of Faculty of Engineering in 2004.
Since 2005-2009, Prof Bahtiar was trusted to be the Vice Rector Academic in BINUS University. In 16th of December 2009, he was officially the 3rd Professor of BINUS University.
He continued his career as Vice Rector of Research and Technology Transfer, finishing his term in 2018, and left a tremendous mark as a pioneer in the transformation of Binus Research. His involvement and inspiration provides a strong base and a significant boost in Binus University's research.
RTT Binus would like to express the highest gratitude and appreciation to Prof Bahtiar for all his services. He was an amazing Vice Rector, a brilliant son, a loved father, a loving husband, and most importantly, an incredible person. He is gone, but he will never be forgotten.
Rest in Peace, Prof Bahtiar.
November 25th 1956 – December 30th 2019
______________________________________________________
ᴅᴀᴛᴀ ᴀɴᴀʟʏᴛɪᴄs ᴀɴᴅ ᴘᴜʙʟɪᴄ ᴇɴɢᴀɢᴇᴍᴇɴᴛ
🅁🅃🅃 🄱🄸🄽🅄🅂
2019
Website https://research.binus.ac.id
WhatsApps +628195446688
Twitter www.twitter.com/binusresearch
FacebookPage www.facebook.com/binusresearch
Youtube bit.ly/BinusResearch