UNION: Utilization of AI in IR Analysis on BINUS Innovation Award 2021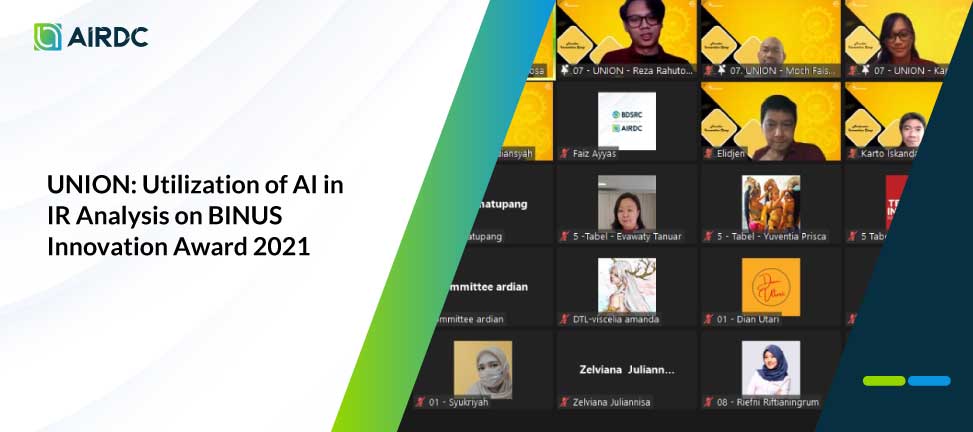 One of the innovation events at Bina Nusantara (BINUS) is back this year. In this edition, BINUS Innovation Award 2021 comes with the theme "Turning Threats into Opportunities with Digital Transformation".
On 4-5 August 2021, The Innovation Camp for the top 15 contestants of the BINUS Innovation Award 2021 was held by BINUS Knowledge Management Department. Mentored by Dr. Bens Pardamean, the Artificial Intelligence Research and Development Center (AIRDC) team that consists of Reza Rahutomo, and Kartika Purwandari participated as one of the finalists in this event.
In this competition, AIRDC and research partners formed a team named UNION. AIRDC collaborated with Moch Faisal Karim, Ph.D., and Prof. Dr. Tirta Nugraha Mursitama, Ph.D. from International Relations BINUS University, and also Ida Bagus K. Manuaba, S.T., Ph.D. from Computer Science BINUS University. UNION delivered a presentation of an AI-based analytical engine that specialized in international relations research in the form of a dashboard.
As the team leader, Reza presented the capabilities of UNION that process keywords related to international relations into insights and analysis through the Natural Language Processing (NLP) approach.
One of the reasons underlying the development of this system is that the epistemic community and international relations research was not yet supported by data science. This is contrary to the fact that the level of technology adoption and the availability of talent and technology data sources in Indonesia is quite high.
By using various NLP techniques, namely data crawling, text categorization, sentiment analysis, and network analysis, new approaches can be created in International Relations research. In addition, it is explained that UNION can be used by researchers of international relations who want an in-depth analysis of their topic of interest to gain deep insights for decision-making.