Colorectal Cancer Research on BINUS University Lustrum, 40 Contributing Researches Sharing Sessions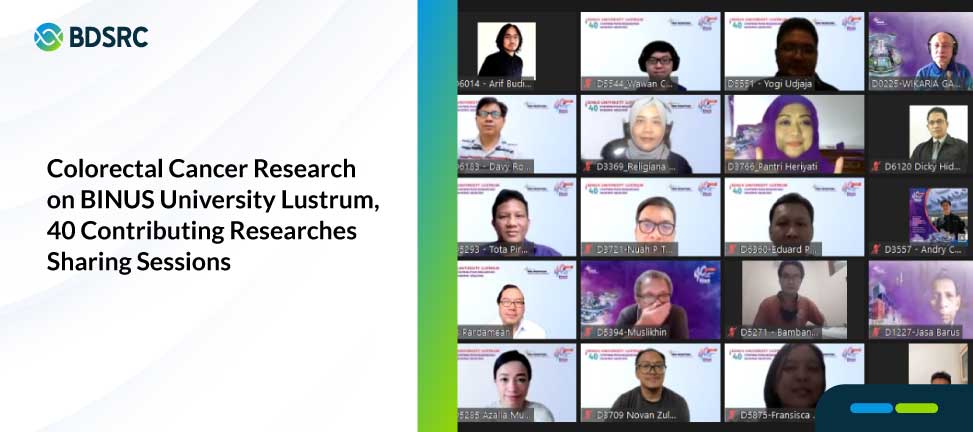 The representative of Bioinformatics & Data Science Research Center (BDSRC), Dr. Bens Pardamean, Arif Budiarto, Wawan Cenggoro, Reza Rahutomo, and Bharuno Mahesworo attended a series of "BINUS University Lustrum, 40 Contributing Researches Sharing Sessions" virtually organized by BINUS Corporate Learning & Development (BCL&D) on 6 July 2021.
As one of the speakers in this session, Dr. Bens represents the team from colorectal cancer (CRC) research who was awarded the "40 Contributing Researches" at BINUS University Lustrum. He presented the history and results from research entitled "Genetic Risk Factors for Colorectal Cancer in Multiethnic Indonesians" to BINUS University lecturers who were participated in this agenda.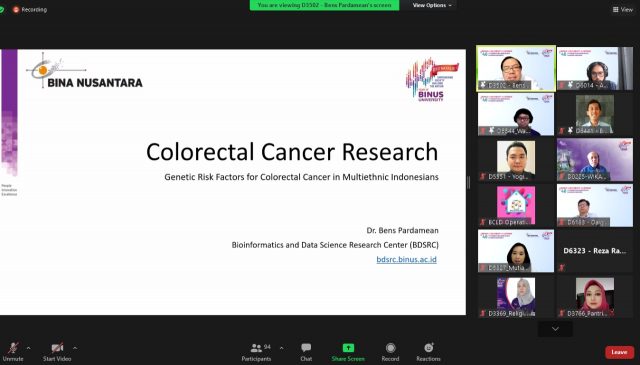 This CRC research is a collaboration organized among BDSRC, Hasanuddin University, BioRealm, University of Southern California, and Mochtar Riady Institute for Nanotechnology.
On this occasion, Dr.Bens revealed there are several motivations behind this research. It was explained that because CRC is one of the most common cancers in the world. Then in Indonesia CRC cancer is currently sitting in the top four incidences for both males and females. Furthermore, the lifetime cumulative risk of developing CRC for Indonesian males is the first among all cancers. CRC is also a complex disease – genetic and environmental factors contribute to risk and progression. Moreover, previous research has identified 40 genetic variants related to CRC risk but none of them are based on the Indonesian population.
In addition, he also explained the technical process in this research and the results of the contributions obtained so far. He believes that this research should be continued and developed in handling CRC, especially in Indonesia.