Nobel Prize in Physics recognizes research leading to high-brightness blue LEDs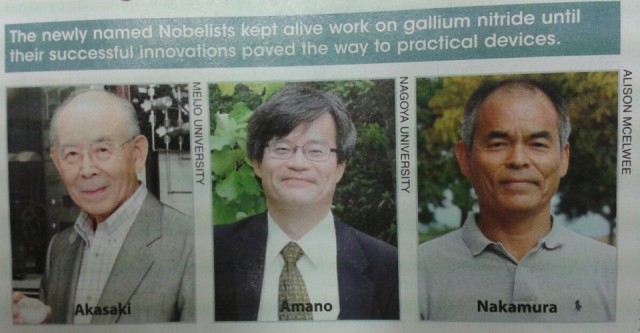 The Royal Swedish Academy of Sciences has awarded its coveted physics prize to Isamu Akasaki, Hiroshi Amano, and Shuji Nakamura "for the invention of efficient blue light emitting diodes whcih has enabled bright and energy-saving white light sources." The academy cited the "spirit of Alfred Nobel" in noting that the prize "rewards an invention of greatest benefit to mankind." Akasaki is affiliated with Meijo University and Nagoya University, both in Nagoya, Japan; Amano is at Nagoya University; and Nakamura is at the University of California, Santa Barbara (UCSB).
The development of the efficient blue LED completed the primary spectrum of colors needed to  to produce white LED lighting. White hues can be produced either by mixing light from separate red, green, and blue LEDs or by shining a single blue LED on a suitable phosphor. Solid-state light displays and indicator lights made from monochromatic LEDs are now ubiquitous. Devices emitting in the visible range have been around since 1960s, with the early red LEDs eventually joined by yellow and green lights. The development of an efficient blue-emitting devices, however, posed considerable challenges, and by 1980 most groups had stopped exploring gallium nitride – the semiconductor that turn out to be the key.
The new Nobelists were nearly alone in wrestling with that problematic material through the 1980s and into the 1990s. Their effort paid off in the early 1990s with the development of efficient blue LED devices. Since then, an explosion of activity has poised highly efficient solid-state lightning to replace the world's stock of light bulbs. Today, lighting accounts for about 20% of the world's electrical energy use, with much of that energy wasted as heat energy from incandescent bulbs. Efficient solid-state white lights could greatly reduce the energy consumptions, and the long lifetimes of the devices should help reduce material consumption as well.
One measure of efficiency is the ration of luminous flux (measured in lumens) to electric input power (in watts). The record efficiency, set by Cree Lightning earlier this year, was more than 300 lm/W, compared with a figure of 16 for incandescent bulbs and 70 for fluorescent lights. Work to improve the performance and cost of white-light LEDs continues.
Resource : Physics Today, December 2014, p. 14