Fusion breeding for sustainable carbon-free power
Any reasonable option for mid-century, sustainable, carbon-free power should be given serious attention. Fusion breeding is a better option for US fusion program. There are three dilemma issued widely: "Pulsed-power machine studies weapons, simulates stars", "Turmoil ITER continues", and "Nuclear energy output slows as climate warms". However, the problem is much worse than those. Two energy options have received considerable attention – controlled fusion and "green energy" (solar photovoltaic, solar thermal, wind, and ethanol) – are currently encountering fierce headwinds.
Consider the following: The cost of ITER has grown considerably and its completion date has been dramatically extended. Tokamaks will probably never be economical stand-alone pure fusion reactors, but they could be fusion breeders. The National Ignition Facility has missed its gain milestone by about three orders of magnitude. And recently the US Congress has taken a hard and unsympathetic look at fusion.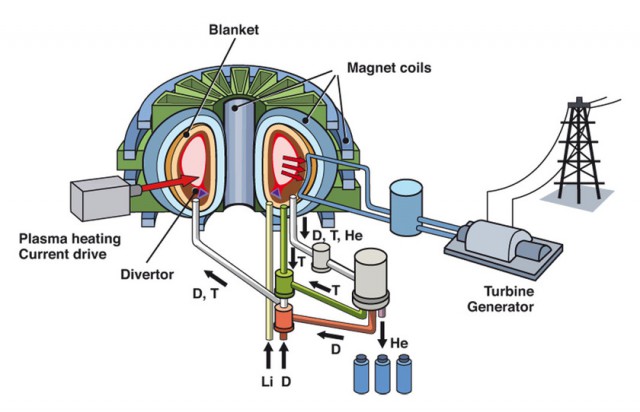 Although there are no guarantees that pure fusion and green energy will continue to fail or coal use will continue its rapid increase, most indications are discouraging. Hence it seems appropriate to pay more attention to another option for sustainable, carbon-free mid-century power: fusion breeding.
A fusion breeder can fuel many thermal nuclear reactors of equal power. It takes two fast-neutron fission reactors at maximum breeding rate to fuel a single thermal nuclear reactor. Developing fusion breeding will take decades of dedicated effort, but it is much more achievable than pure fusion. In any case, fuel for fission reactors is currently available and will be for a few decades. The time to develop fusion breeding and the time to largely depleted conventional nuclear fuel could well match up.
Resource : Physics Today, December 2014, p. 13
Images from:
http://static6.businessinsider.com/image/543ea0486bb3f78b31f8c045-928-389/fusion.png
http://www.physics.ohio-state.edu/~aubrecht/cpep.gif
http://www.siemens.com/innovation/apps/pof_microsite/_pof-spring-2010/_img/images/055_left_column.jpg