Fur Keeps Animals Warm by Scattering Light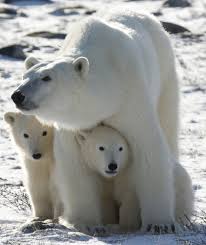 source: http://polarfield.com/blog/tag/polar-bear/
In work that has major implications for improving the performance of building insulation, scientists at the University of Namur, Belgium, and the University of Hassan I, Morocco, have calculated that hairs that reflect infrared light may contribute significant insulating power to the exceptionally warm winter coats of polar bears and other animals (Opt. Exp. 22, 1940). These results could lead to more efficient designs for thermal insulation for buildings.
Lead author Priscilla Simonis was intrigued by the ability of polar bears to insulate their bodies to temperatures of 37 degree Celcius when outside temperatures are a frigid -40 degree Celcius. The feat is especially impressive given that the bear's fur is only 5 cm thick.
Most people assume that fur keeps animals warm by trapping a layer of air that slows thermal conduction. But Simonis and her colleagues suspected that radiation might play a bigger role. The team created a computer model with a hot and a cold thermostat that simulated an animal's warm body and the outside, colder environment. The two thermostats were separated by a space filled with radiative shields that mimicked fur.
They found that as reflectivity of the radiative shield increases, the rate of heat transfer between the hot and cold thermostat was dramatically reduced. Adding more shields also reduced energy loss. The model suggests that the repeated backscattering of infrared light between radiative shields, like individual hairs, could be the primary mechanism for the thermal insulation properties of fur.
Reference:
Optics & Photonics News, March 2014, p. 11